* we had about 33 people there if you count little children, 35 if you count the bards. i had no idea that many people could fit in our house.
freemonkeys
was thrilled to have people playing in the arcade after the show was over.
* the bards show was amazing! they played for about an hour, took a short break, and played another hour. before the show started they got our input on the set list, which was really cool because we got to hear our favorite songs. we also got to hear a few new songs, too!! (or at least new to us)
* when they sang "The Legend of Jayne" (from Firefly) Marc wore my Jayne hat that
sarahtoalaska
knitted for me. yes, he looked cunning. he wore it for the rest of the show, which triggered a million hat jokes from Andrew.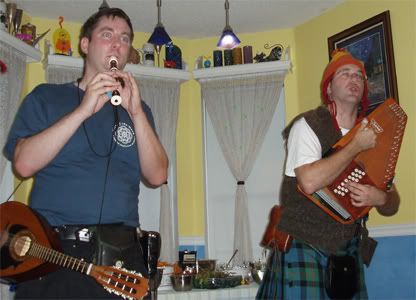 and this picture is blurry but i still think he is so cute in it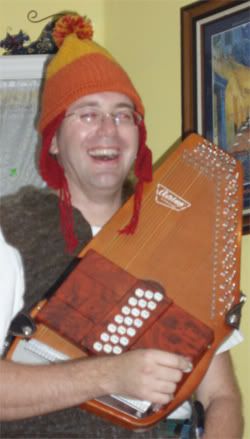 * during A Fairy Story my husband was standing in the kitchen, in sight of everyone at the show. Andrew kept pointing to him whenever he sang about the knight and monkeys would strike a manly pose. but if you know the end of the song you know that everyone was peeking into the kitchen to see his reaction and to see if Andrew would keep up pointing to him as the knight. monkeys knows the song as well, though, so his flamboyant swishy pose at the end was FABULOUS and got a huge laugh.
* i got a copy of The Circle CD, i'd been wanting it from the podcasts, the money raised helps Hurricane Katrina relief. I also got another CD because it had some robin hood songs i'd not heard before, they overheard me mentioning that so they deviated from the playlist and performed that in the show.
* we made bard stalker t-shirts. long story about how i became Andrew's official stalker (link to other post
Stalking the Bards
) but the inside joke continues to grow so late Saturday night we stayed up until midnight making Official Bard Stalker t-shirts for me, toaster, redd, droid, tick, sarah, and some other friends. they turned out GREAT. monkeys did the layout and we did the ironing. when Andrew arrived i asked him if he liked our shirts and he said no. i actually got sad and nervous! i thought he didn't like them or that we had broken copyright or something using their name. but that wasn't it. he said he was mad that we did better t-shirt designs then they did!!! LOL! he had been teasing us the entire time.
the front: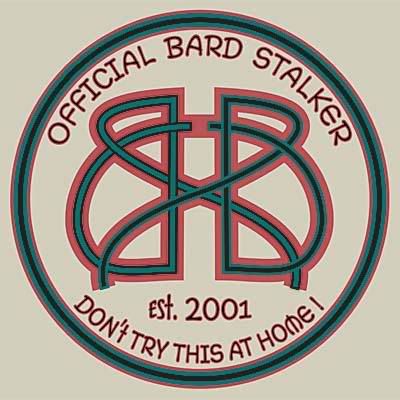 and the back: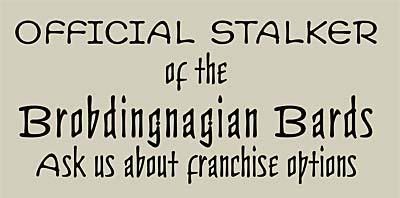 us with the bards: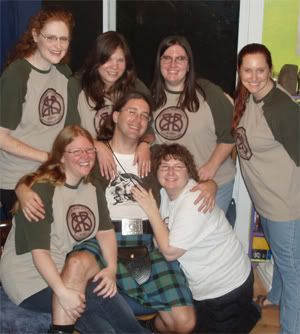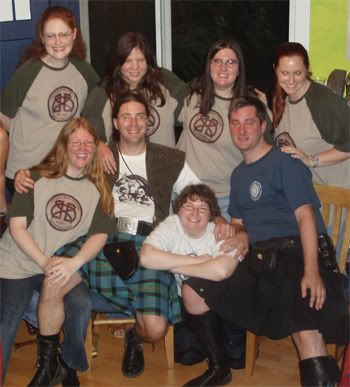 * Toaster talked about
Duckets
- which was brilliant. She also mentioned Artemis wandering in a few times to sniff their recording device. That was a little embarrassing - i thought it was really cute but if the bards didn't then it was bad. plus, what if she tried to sit on it? she likes to sit on things...
* after the show people hung out for a little bit. one by one they left until it was just toaster, the bards, magnet, and matt. they helped us get our furniture back in order, which was really sweet!
* the next day we meet cam&steph, toaster, and the bards at a local restaurant and had lunch together. that was really great. they serve hushpuppies and strawberry butter. so good!!
golly, there is more but i'm sleepy and my memory is fuzzy. i'll have to listen to the show again because there were so many fun moments, so much great music, and such good people. feel free to add more memories!!
Since it's been nearly a week, I am sure I will be forgetting everything. I thought maybe I'd do bullets in case stream of consciousness make it easier.
Current Location:

home

Current Mood:

happy

Current Music:

design show stuff