Game One – Monster Muffins!
It's really just an excuse for me to try to get people to decorate cupcakes. I do this most parties. This year I made "ghostly white cake" cupcakes and bizarrely dense blood red velvet cupcakes. (I do mean bizarrely dense - several people asked me how I made them and I would have gotten defensive except they wanted the recipe, apparently, instead of wanting to complain.) We have some really artistic people in the group so there were some amazing entries. I am really kicking myself for not being as camera crazy as I usually am, because I do not have a lot of pictures of the decorated cupcakes.
Winner –
theyearilost
's werewolf cupcake.
reddheaded
's mummy cupcake also got several votes.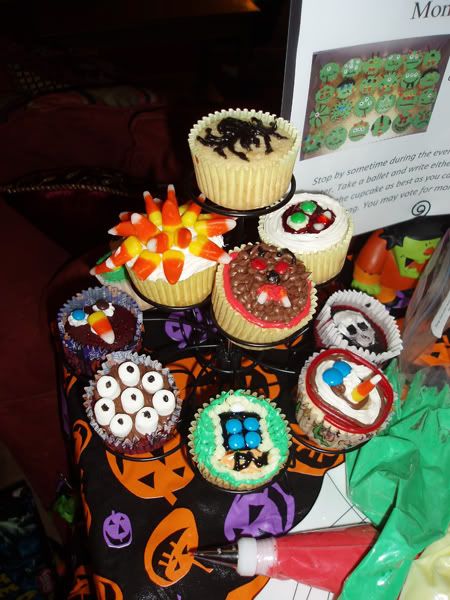 Game Two - Make-Up A Monster
Monkeys thought of this game! We printed out pictures of Bela Lugosi's iconic Dracula and Lon Chaney's iconic Frankenstein's Monster then provided crayons, markers, glue, glitter, buttons, more paper, etc. The basic idea was to put make-up on the monster and give him a name – sort of give the old monsters new identities. People ran with it! We had "Dragula", Anne Frankenstein, Team Bela, Sailor Frankenstein, Hammer Time Dracula (which I think was a also a play on the Hammer films and won for Favorite Dracula), Rocky Horror Frankenstein (winner for favorite Frank), a Young Ones Vivian inspired Frankenstein, and a few others.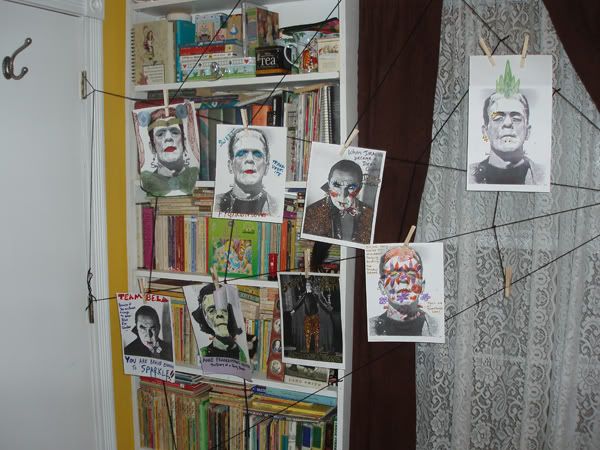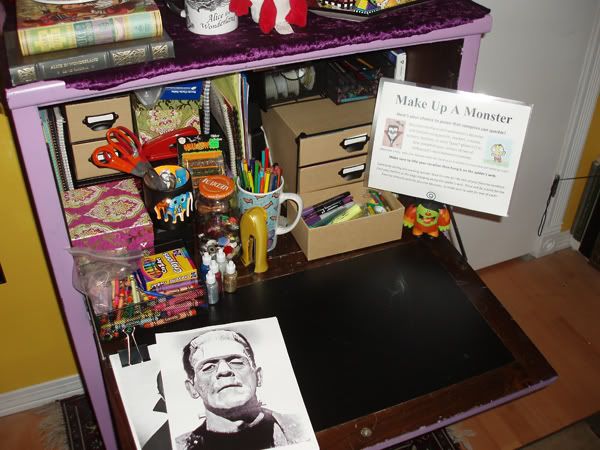 Game Three – Monster Bash
We blew up white, green, and purple balloons then drew mummy, Frankenstien's monster, and vampire faces on them with a Sharpie, affixed them to some sturdy cardboard, and three darts at them. This was fun!! Everyone got three tries to pop balloons. Tickmosis was the only one to pop three, so she won.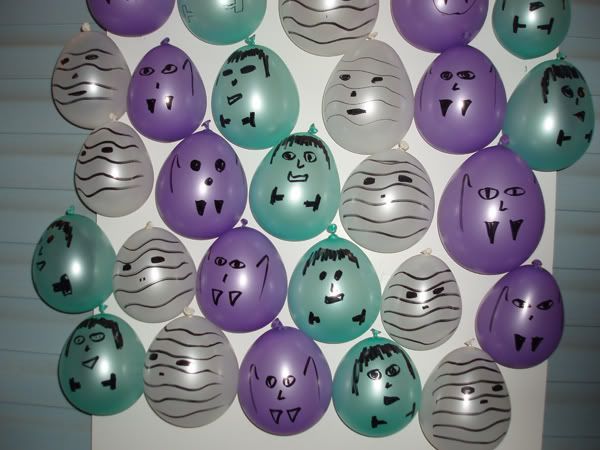 We weren't even sure if we were going to throw a party this year since I was on call for the home delivery team (due 10/24 but he came early) and we had other issues going on. But we didn't get invited to any Halloween Parties – so we ended up hosting after all. Last year the theme the group picked was Classic Hollywood Monsters, so we tried to work around Frankenstein, Dracula, and The Mummy. Mostly we sat around and talked and watched movies and youtube, like we usually do. But this time we did it in costumes and played some games in between. I'll try to split this into a few posts so that it's not so terribly long. First up GAMES! Then food, costumes, and general pictures. Now...The Game's Afoot!