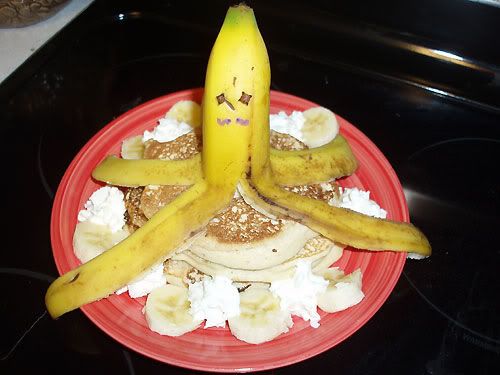 Ever since we saw that Denny's Nanerpss commercial I've been singing this song and talking about pancakes. So for the past two weekends my husband made me a Nanerpus (woot!). Last week Toaster and I had to go to the Cathedral for the Rite of Election (part of my joining the Catholic Church) and he made Nanerpus for both of us. Ignore my hair in that photo. (Yes, that's some of Redd's jewelry I'm wearing.) Toaster's Nannerpuss appears to be casting a glance askance...
If you haven't seen the commercial, here's a link so that you can truly appreciate my husband's masterpiece.
I could watch this over and over again.
By the way Denny's... All I wanted after your commercial was to go to IHOP and get a giant stack of pancakes with Giggledrops while singing about Nanerpusses. I can't understand anyone else *not* having the same reaction. I question your advertising skills. Guess what? I love Nannerpuss.
EDIT: Adding pictures to show exactly how awesome my husband is...