disbandedtoastr
helped us hang loads of Hollywood decorations (movie cameras, lights, film reels). To give it the Bollywood feel,
reddheaded
found a websites with decoration suggestions. Then, as luck would have it, my mother and I happened upon an Indian themed party set up at Target the day of the party. The living room and dining room were swathed in reds, oranges, yellows, and deep purples and loaded up with candles. It looked really pretty. I knew I wouldn't be able to cook Indian/Pakistani food as good as his mom, plus he was tired of it anyway, so we didn't do any special food for the party. Monkeys did make two killer cakes, however. One was a white cake with a Nutella frosting. The other was the ladyfinger/coffee/whipped cream portion of a tiramisu, because we thought that was Raven's favorite part of the desert. Oh, and he made maple leaf cookies for Canada. We had planned to do a piñata he could bash that was filled with Bollywood and Canadian things to signify his return and symbolize the asskissing nature of the party, but I couldn't find an appropriate piñata, so in reality it was just a Bollywood party. Tickmosis, Toaster, and I wore our Salwar Kamishes that Raven's parents brought us from their last trip to the subcontinent. Redd wore a homemade Sari that looked FANTASTIC. Pictures posted below. After the opening of presents, we watched three episodes of Big Bang Theory, then we watched THIS:
Also, Raven brought me back a BUNCH of other Bollywood films, including some horror movies. He's even willing to watch a few of them with us. Woot! Although, there are a few I'm under orders to watch without him.
One of the best cakes ever - I ate some leftover frosting by itself with a spoon today.
Canada cookies! The maple leaves sort of spread out, but they were still recognizable. Oh, and I ate the rest of the raw cookie dough today.
Example of some of the Hollywood movie theme decorations we found at Party City
Example of some of the Bollywood decorations. I made this from an orange bathmat, napkins, candles, some decorative filling, and a paper Indian breadbowl I found at Target.
Raven spots us!
Raven and his girls.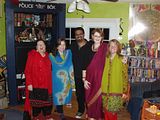 Raven returned home from Canada two days before his birthday, so we had a welcome home/birthday party for him this Saturday. He said he was overexposed to Bollywood after two weeks visiting home. (Apparently his sister is a big fan? She rocks, cuz she picked out a bunch of movies for me!!!) To welcome him back from the freezing cold and in defiance of his overexposure, we decided to throw a Bollywood can Kiss My A$$ party in his honor. Friday