Mystical Arts of Tibet - Mandala Sand Painting.
They travel around the world sharing the art and culture of Tibet and raising money for their monastery (in Atlanta!).
This is their third year visiting the college, and my second year attending their opening ceremonies. If any of you have ever heard Toaster, Monkeys, or I use the phrases
loving touch
or
there must be monks present
, those phrases came from a previous year.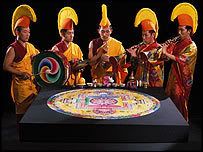 It is fascinating to watch. The
mandala sand painting
begins with an opening ceremony where the lamas consecrate the site and call forth the forces of goodness via chanting, music and mantra recitation. The music is played on horns, cymbals, bells, and drums. The first time I heard it, it sounded more like a cacophony to me, so I'm glad I got this second chance today. Knowing what to expect, I was able to listen to it instead of just react to it. The chanting is amazing. I do not know how they can resonate so much and so deeply. Sometimes it actually hurts my chest listening to them in some form of sympathetic pain. The chanting is called
Multiphonic Singing:Tibetan temple music is particularly renowned in the west for its two forms of multiphonic singing known as jok-kay (low tone) and bar-da (high tone). In both forms, each of the main chantmasters simultaneously intones three notes, thus each individually creating a complete chord. The Tibetans are the only culture on earth that cultivate this most extraordinary vocal ability. This tradition is also known as "overtone singing" because it is accomplished by means of learning to control the muscles of the vocal cavity and then re-shaping it while singing, thus intensifying the natural overtones of the voice. In effect, the body is transformed into an effective overtone amplifier. (From their website.)
I also got to stay for most of their chalk outline process. They use those giant compasses you see for chalkboards in math classes and the equivalent of chalk string tool from carpentry but more ornamental and primitive. Just from watching the outline being created, I was impressed with their patience. Once the outline is done they use a funnel like took called a Chak-pur to fill it in with the colored sand, starting in the center and working outwards.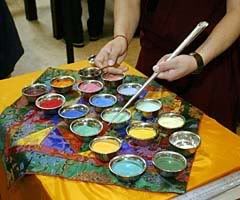 The rest of the week the gallery will be open for the public to watch the monks create the mandala. This trip they are doing a Medicine Buddha Mandala. The monks are staying with various college employees and carpooling in to work. I would like to host one year, but we need to fix our shower before we can. Saturday the monks will finish the mandala (we hope!) in time for the closing ceremony at 2:00 pm.
During closing ceremonies, the painting will be dismantled. This is done as a metaphor for the impermanence of all that exists. The sands will be swept up and placed in an urn; to fulfill the function of healing, half will be distributed to the audience at the closing ceremony, while the remainder will be deposited in Turkey Creek so that the healing blessing of the mandala may be spread throughout the area.
We have a wedding to attend that evening at 5:00 pm, so I am hoping we can swing by the closing ceremony on our way to the wedding.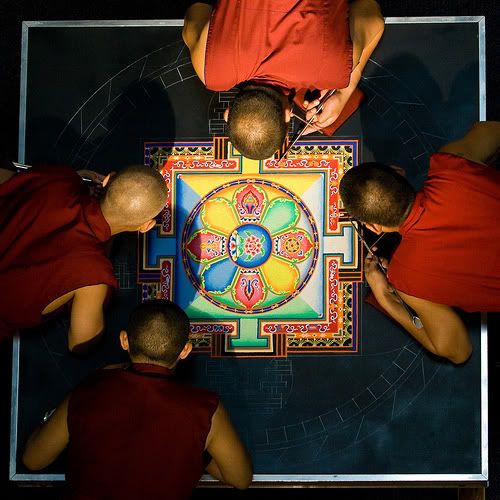 Their previous visits inspired me to make a few changes in my life and my perspective. I tend to be a pack rat, so watching them invest so much time and effort into creating a stunning work of art only to sweep it away really went against my … grain? Anyway, it made me think about how so often the important bits of life are in the creation of something. That is also where most of the fun is. After it is created, you just sit around looking at it, whatever it may be. What is the old saying –
Life is a journey not a destination
? So participating in closing ceremonies last year helped me to realize possessions should just be possessions and not the entire point of life. I am still a pack rat. It took me two weeks to throw away the Nutrimatic Tea Dispenser and Babelfish Vending Machine, but I did throw them away instead of put them in the attic. That is something. Plus, I do think I appreciate the journey more than I used to.
A group of Tibetan Buddhist monks from the Drepung Loseling Monastery are constructing a Mandala Sand Painting in one of our art galleries as a part of their tour called
Current Location:

the comfy chair

Current Mood:

thankful

Current Music:

The Colbert Report