Vogon Poetry Competition
I wish I'd thought to video tape this, because it was truly hysterical. Most of us had moments of fits of laughter from the various deliveries or lines, and everyone who wrote a poem did a fantastic job. The other funny part was in tying the judges to the poetry appreciation chairs. So here are pictures of the chairs and judges. Redd's somewhat Swedish Chef inspired poem with her fabulous delivery won, but McAmason's was a close second and generally agreed to being the most Vogon-like.
The judges tied to their chairs (see Raven's winning robe in the top picture & Trillian from the BBC show on the TV in the background of the second picture):
The winner (sitting between two of the judges):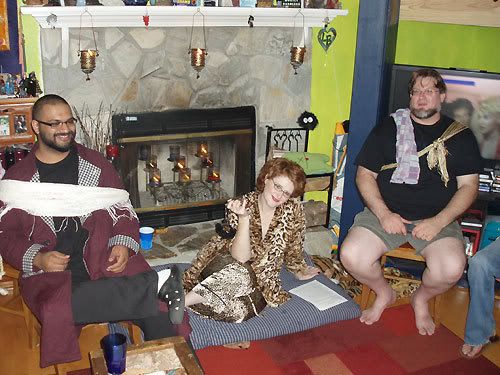 The rules:
Rule one:
the poem must be two verses long. (Really you can just bisect it.)
Rule two:
The poem must contain at least three nonsense words.
Rule three:
In honor of Monkeys, the poem must reference cheese, Apple computers, or 80's arcade games.
Rule four:
The poem must be awful.
Rule five:
The poem must be really awful.
(I gave some examples from the book on the back as a guide. The two verses references the Infocom game's instruction to use the second word from the second verse to open the lock.)
Some of the poems:
I'm trying to make them be not as long by using / to show line breaks. :)
The Winning Poem
Bork Bork Bork / Smorgessborgeer bork / iPod Borkitty bork Apple / Ms Pacman Bork Schork
Fromage Fromage Fromage / Smorgeesborgeer Fromage / Apple Fromagitty Fromage iPod / Donkey Kong Fromage Schromage / Krispy Kreme Krispy Kreme Krispy Kreme (the rest was just doodles of donuts)
2nd Place
My slurtflanning howls langourously; / I have gabshofted thee with curds of gouda. / Thy oozings leave me devflofipil'd, / and all is norgrilifaction.
Whither departest the bacteria-modulated milky foodstuffs / that slurt me when in deepest snorlaction, / my umber need unshofted, / while all around, my yunnings defract and distract / my need for umpulation.
Who What When Where
Timey Whimey / Lemon Limey / Who goes where he goes?
Hibbity Jibbity / Lemony Snicketty / What happened to your toes?
Blackety blue-ety / They grew and they grew-ety / Where the $#@# did this blue box come from???
My Poem (my husband points out every Mac in movies/shows)
Macintosh, oh Macintosh / with your prismatic pomme / Why must you infiltrate every bijou feature? / How can I savor my cinematic escapade / when constantly interruped by exuberant shouts and exultations and / frantic digitations directed at the projector's screen.
Groop, I impore thee, Macintosh / Forsake your insidious ways. / While your fruit may be hidden, your shapely form betrays your presence / to those with keen and sensitive gaze. / For Thou art trixy and trecherous. / Quit my dramaturgic media and spare my eyes and ears from assault. / One of these days I'll get poked in the ear!
I have three more I can post, but I'm starting to get hungry, so I'm off to heat up leftover chocolate fondue! :)
Someone already put theirs up on their LJ (see
magnet5
's post
http://magnet5.livejournal.com/230926.html