My husband asked for a big Hitchhiker's themed party for his 42nd birthday, and since this seemed more important to him than turning 40, I wanted to make sure it was special. In searching for ideas online, however, I was surprised by how few Hitchhikers party ideas and descriptions were out there, so I decided to post a lot of details of mine in case it helps anyone in the future. In the next few posts I'll be doing "short" reviews of pictures of the party possibly followed by a longer, more detailed description behind a cut for anyone who might be interested. Anyone know where the longer description should be posted for people searching for this kind of stuff?
Best Robe/Best Towel Competition.Towels
- Redd wore PJ's and a robe, but didn't have a towel, so she grabbed a hand towel from my kitchen that had a crab on it and announced people should vote for her because she had crabs. Toaster was also in PJ's and robe but no towel, so she grabbed a monkey hand towel from my kitchen and said people should vote for hers because it matched her monkey robe. My husband argued that his towel was bought fifteen years ago with the express purpose of being his traveling hitchhiking towel and pointed all the frayed edges and damage it's taken over the years in service to him. I pointed out my towel was not only prettiest, it was actually functioning as a tablecloth over on the punch table and should be voted for because it was the only towel being useful. I won!
Robes
– Toaster and I were in really cute monkey robes that Redd had given us for Christmas a few years back. Redd had an awesome leopard print robe that looked really good on her. Monkeys, Tick, MB, and McAmason were also in robes, and I can post pictures if they give approval. The winner was Raven, in his Invisible Man robe that S2AK sewed for him for Dragoncon.
I have pictures of other towels/robes, but want to get permission from the people involved before posting.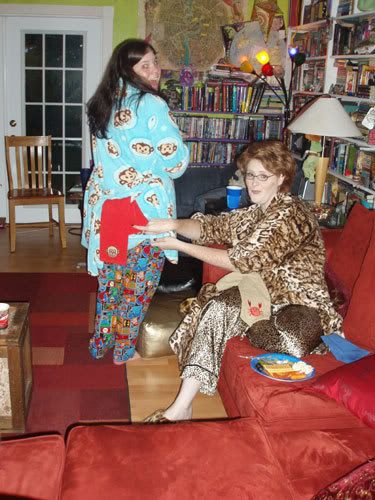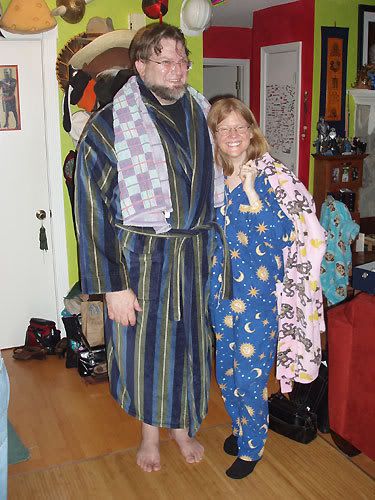 Still to come:
Vogon Poetry Competition
Best Planet Competition
Decorations
Full details (fort those interested)
I am so glad it worked out! Big thanks to everyone who helped.