Saw this lamp on
debgeisler
's livejournal from
Frank Buchwald
. and fell in love.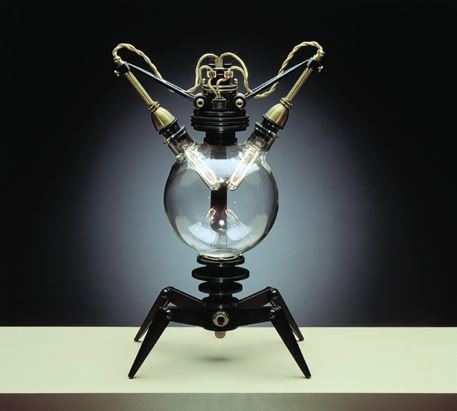 Jeff Goldblum is joining the cast of Law & Order Criminal Intent. I'm so excited. I love VDO/Goren more than words, but Goldblum is a great actor, and I miss his shortlived show Raines. Plus, Monkeys is a big Goldblum fan, so he might watch with me.
Got the guest bedroom almost ready (one more blanket in the wash). I'm 99% packed. Can't really clean the bathroom/living room/kitchen as we are still using them, but have a plan for Wednesday so that S
2
AK should be able to walk into a welcoming home.
Met with a friend's mom and sister-in-law to discuss shower planning ideas. I'm not used to cigarette smoke, and they managed eight cigarettes in less than two hours in a small room, so my head is killing me. Still, we set a date and time, divided out the food responsibilities, settled on a theme (mostly) and games, and discussed decorations. Her mother and sister-in-law never heard of Morgan Le Fay (not that she'll be in the shower, but I was trying to think of names of famous fairies).
Three days!
Now, I'm off to track down some Tylenol.
My head is killing me. :(
Current Location:

the comfy chair

Current Mood:

sick

Current Music:

Law and Order Criminal Intent